How to Join
Attend our next general Meeting
| | |
| --- | --- |
| Where: | Spokane Valley Marine, 7915 E. Sprague Ave. Spokane Valley, WA 99212 |
| | |
| --- | --- |
| When: | 4th Tuesday of Jan., Feb., March, April, May, June, Sept., Oct., Nov. @ 7:00 P.M. |
| | |
| --- | --- |
| What: | Dues are $50.00 per year for a family / individual Collected by our Club secretary at general meetings. Print a membership form, mail it to: Inland Empire Bass Club, P.O. Box 142147, Spokane Valley, WA 99214, or bring it to the next meeting. |
Our Values
CORE VALUES
| | |
| --- | --- |
| History | The future of our club is built on the past, that exists primarily due to the experiences and friendships that have developed as a direct result of fishing and meeting together. |
| | |
| --- | --- |
| Knowledge | By sharing life and fishing experience we help to improve each other and provide a system of support. |
| | |
| --- | --- |
| Friendship | We share our experience and create goodwill by belonging. |
| | |
| --- | --- |
| Competition | It makes us better. |


SPONSORS: We could not do what we do without them! Please support them! Click on their links below for quick access to their sites!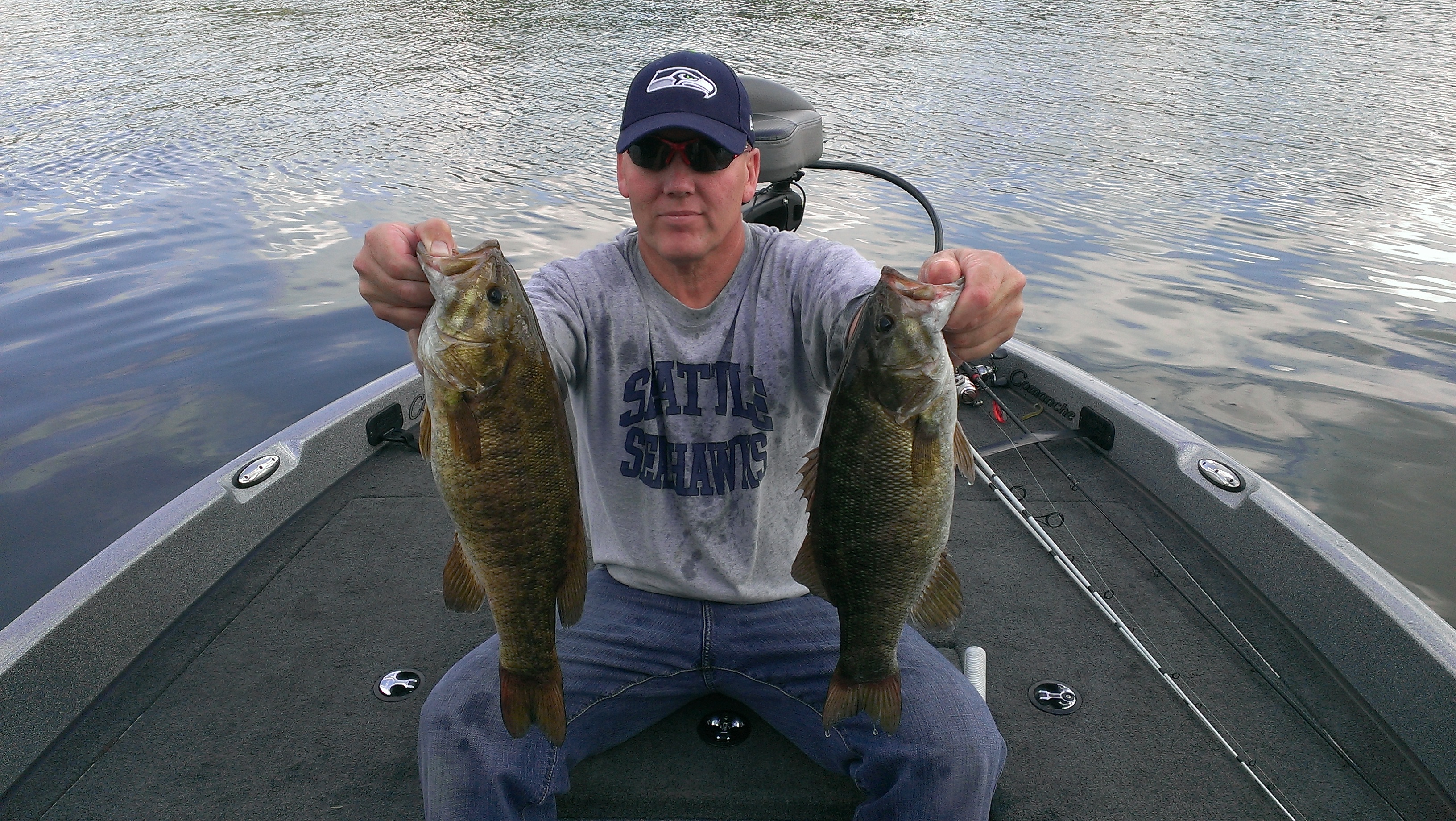 Club Information Packet
Inland Empire Bass Club
Club Information
1. General Club Philosophy: Inland Empire Bass Club, (I.E.B.C.) is organized to encourage and stimulate interest in
bass fishing. Club activities are directed toward that objective through meetings, fishing tournaments, family and social
events in cooperation with other clubs and agencies. The spirit of catch and release fishing, observance of game
laws, education, conservation, habitat improvement, good sportsmanship, and courtesy are the guidelines we follow.
2. Membership: Membership in the I.B.E.C. and payment of all dues assessments entitles each member to: Participate in all club tournaments, usually six two-day tournaments, with an organized potluck Saturday evening of each tournament.
· Attend club meetings with an educational program involving or relating to bass fishing.
· Participate in the annual Christmas Banquet and awards program.
· Participate in our annual Ladies and Couples Tournament Weekend.
· Join an organized family weekend with great prizes for a Kids Tournament.
· Fish for trophies and prizes for the Top Ten overall anglers, Ladies Division, Youth Division, Catch and Release, plus other individual awards.
· Participate in raffles and special events.
· Enjoy the fellowship and goodwill created by membership in a group with common interests
3. Organization: Inland Empire Bass Club is organized with a Board of Directors. The board, which consists of the five officers, is responsible for conducting the business affairs of the club. The purpose of using the Board of Directors for operating the club is to eliminate long and boring general membership meetings. Since the board is elected and consists of twelve members, divergent views are generally represented. Members are always welcome at Board Meetings. Any decision deemed to be a major consequence, will be voted on by club members. The Board meetings are held on the first Monday of the month at 6 pm and the General meetings are held on the fourth Tuesday of the month at 7pm.
4. Expenses: Club expenses are paid by the club treasurer utilizing funds generated through annual dues and fundraisers. Disbursement of these funds is to be approved by the President and /the Board of Directors. Tournament contestants pay their own individual expenses. Non –boaters are generally expected to pay one-half of all tournament expenses to include camping fees, vehicle gas, boat gas, and oil. It is up to the individual fisherman to make proper arrangements for payment of expenses.
5. Tournaments: the Board of Directors schedules the club tournaments, usually six, based on suggestions by the membership. The Tournament Director sends the tentative schedule to the Washington Department of Fish and Wildlife. They work to mesh our requests with the schedules of the other bass clubs and individuals in the state. Conflicts for bass tournaments are resolved at the Federation meeting in November. Provisions for the piggybacking on other permits and adjusting of tournament dates generally allows clubs to arrive at a final schedule very close to their original request. A draw system will provide the final decision if no other options work. The club Tournament Director will receive a corrected schedule and the permits for the current year.
6. Tournament Procedures: Inland Empire Bass Club tournaments are generally conducted in accordance with rules as outlined in the attached. Specific procedures are as outlined in the attached "Inland Empire Bass Club, Tournament Rules".
7. Boat Launch and Recovery: Launching and recovery of boats before and after tournaments can be a pleasure to participate and watch or it can be extremely frustrating! The generally accepted procedure for launch is for the boats to line up approaching the ramp. All preliminary preparation, such as removing tie downs, inserting plugs, loading of personal items, and hooking up electronic gear must be done prior to arriving at the number one position on the ramp. When your boat is in number one position, pull up to the ramp, back in, and unload. If you are alone, get help to handle the boat or drive the launch vehicle. Once the boat is launched, drive the vehicle away from the ramp so as not to hinder the launching of subsequent boats. Once the boat is in the water, keep it away from the ramp.
Recovery of boats is similar. Line up vehicles, be ready to go, back in hook up the boat, and pull out.
Don't delay on the ramp to put on tie straps, etc. Remove the vehicle and boat from the ramp area so others may proceed.
The key to a good boat launch and recovery is for everyone to be courteous, friendly, and helpful.
Remember, to help others that are launching or recovering by themselves.
8. Registration, Entry Fees, Start Time: Registration and payment of entry fees for each tournament
can be accomplished anytime up to a half hour before start time on the first day of the tournament. Pre-registration is also available at the general meetings. Fees for Big Fish and any other option pots are also paid at this time. Members must be in good standing with all dues, bills, etc. paid prior to fishing any club tournaments. Considerations must be given to the tournament director during registration period. He or she needs to have time to launch and get ready; therefore, all contestants must be registered no later than 30 minutes prior to tournament start time. See "Inland Empire Bass Club, Tournament Rules" for members arriving after start of the tournament.
The boat starting in the last position each day will control the departure, maintaining a safe interval between boats. For two-day tournament, the order of blast-off will be reversed the second day.
9. Engine Horsepower: Other tournament circuits limit horsepower to B.I.A. rating of the boat. For boat safety purposes as well as insurance purposes, Inland Empire Bass Club recommends keeping the engine horsepower at or below B.I. A. rating of the boat.
10. Summary: Inland Empire Bass Club is organized to foster the interest of bass fisherpersons. The club
combines fishing, social, family, environmental, habitat, and other activities to form a cohesive group
designed to meet the needs of a large number of people.
Good fellowship, good sportsmanship, and courtesy combine to make Inland Empire Bass Club the
successful organization it is.
Welcome to IEBC membership!!!!